2019.01.17
Okinawa Churaumi Aquarium is the world's first aquarium to successfully care for and exhibit a giant manta.
※The footage of its dynamic feeding behavior was added. (Updated in 2019, January 7th)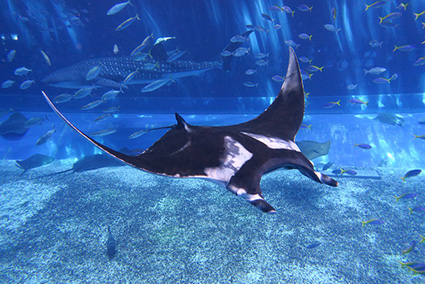 ≪Giant manta≫
Scientific name:Mobula birostris
Japanese name:Oniitomakiei(オニイトマキエイ)
When fully grown, a giant manta is up to six meters wide making it the world's largest ray. It looks very similar to the 4-meter wide reef manta (aka Alfred manta) however they were confirmed to be a different species in 2009. The differences are in the color around their mouths, the patterns on their dorsal sides, and the shape and growth of their scales and teeth. It is a pelagic species and there are few encounters near the coastal areas of Okinawa. There is limited knowledge about its ecology and reproduction.
Location of exhibit
"The Kuroshio Sea" main tank of Okinawa Churaumi Aquarium
Exhibit starts from
November 15th, 2018 (Thursday)
Exhibit individual
1 Male, width 460cm, Weight 700kg
*Exhibit may close depending on the condition of the animal.
There are two species commonly called manta, they are the giant manta and the reef manta (aka Alfred manta). Okinawa Churaumi Aquarium has cared for and exhibited reef mantas since it opened. There is no precedent of a giant manta in an aquarium because they are difficult to care for in captivity, however, based on rearing experience, research, and studies, the Churaumi Aquarium considered undertaking the rearing of the giant manta and this resulted in its successful exhibition for the first time. The giant manta at the aquarium is approximately 1 meter larger than the reef manta in the tank. Through long-term rearing we intend to research its growth and reproduction, behavioral analysis, and conduct a wide range of studies.
Visit the Okinawa Churaumi Aquarium to make the most of this unique opportunity.
Recommended Information
Information about changes in programs
The explanatory program at 11:30 AM is now changed to "Welcoming a giant manta! Let's compare the two types of manta, the world's largest rays!" We will be introducing how to distinguish the giant manta from the Alfred manta using pictures and videos.
Take the opportunity to view the program.
※Explanatory program can be changed or canceled without notice.
※The program is in Japanese only (with English captions)
Watch the giant manta's feeding behavior!
Recently, a giant manta became a new resident in the Kuroshio Sea Tank and has started to feed well. This aquarium is the only place in the world where you can view its dynamic feeding behavior with its large mouth. Take the opportunity to see this spectacular scene.
Feeding is conducted every day at 15:00 and 17:00 along with announcements introducing the dynamic feeding of whale sharks. Come see and enjoy these events.
To celebrate the new resident, original giant manta souvenirs produced by Okinawa Churaumi Aquarium are now available at the aquarium's Blue Manta Shop.
Inquiries
Inquiries regarding Okinawa Churaumi Aquarium
Okinawa Churaumi Aquarium
905-0206
424 Ishikawa, Motobu-cho, Kunigami-gun, Okinawa Prefecture
TEL:+81-980-48-3748
FAX:+81-980-48-4444