To all visitors who are planning to visit the aquarium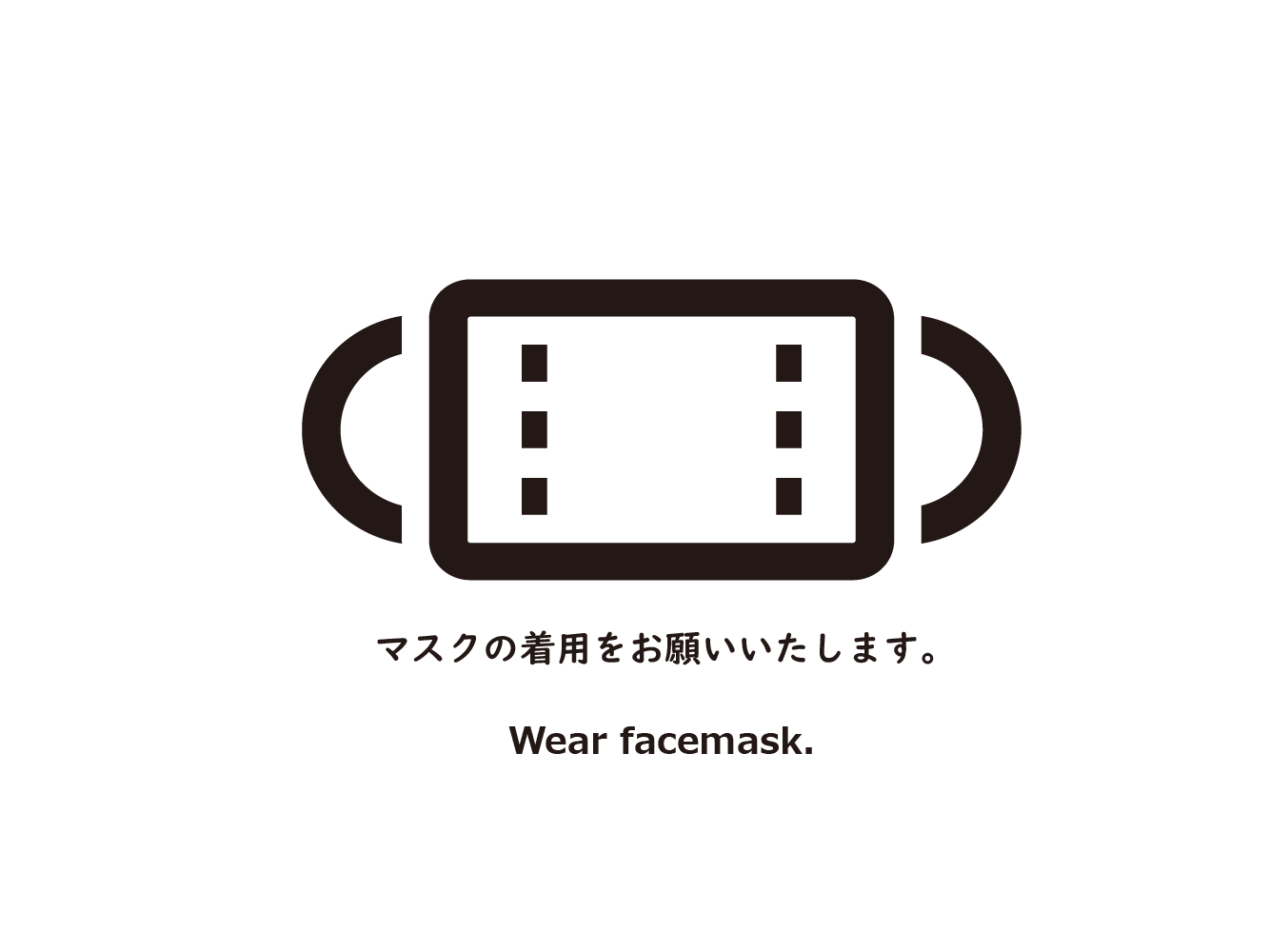 ・Please bring your own mask.(You may not enter if you are not wearing a mask)
※Infants and toddlers do not have to wear a mask.
〇Please install the Okinawa Churaumi Aquarium app on your smartphones
If a case of COVID-19 is confirmed among the aquarium's staff or visitors, a notification will be sent on the official Okinawa Churaumi Aquarium app (Churaumi App). Please turn on push notifications on the app after downloading the Churaumi App. The app can also provide real-time
information on congestion.
Also we recommend to install
【COVID 19 Contact Confirming Application】
.
< Okinawa Churaumi Aquarium Churaumi App >




    

 

  >>How to install

 
※For iPhones go to the App Store. For Android phones, go to Google Play Store. This QR code links to information on the installation of the Okinawa Churaumi Aquarium App.

〇To those who have an annual pass (Renewing an annual pass or purchasing a new annual pass)
To avoid congestion at the aquarium's annual passport counter, we request for visitors to first download and fill out the application form in advance, please bring the completed form to the aquarium's annual passport counter.

Application form for an individual annual passport

Application form for family annual passport


・We request that you frequently wash your hands or use hand sanitizers to prevent the spread of infection.
・A thermal camera will be used at the entrance of the aquarium to check for visitors with high body temperature.
 ※Visitors with a high body temperature will be notified by a staff member.
・Please refrain from visiting the aquarium if you have a fever over 37.5 °C, cold (coughing, sneezing, sore throat), feeling faint, difficulty breathing or if you have health concerns.
・If you do not feel well, please tell the staff. We will show you the nearest hospitals.
・To avoid overcrowding we may restrict the numbers of visitors.
We ask for visitors to proceed slowly without stopping when we are limiting the numbers of visitors.
・Please practice social distancing by keeping a gap of 2 meters between visitors.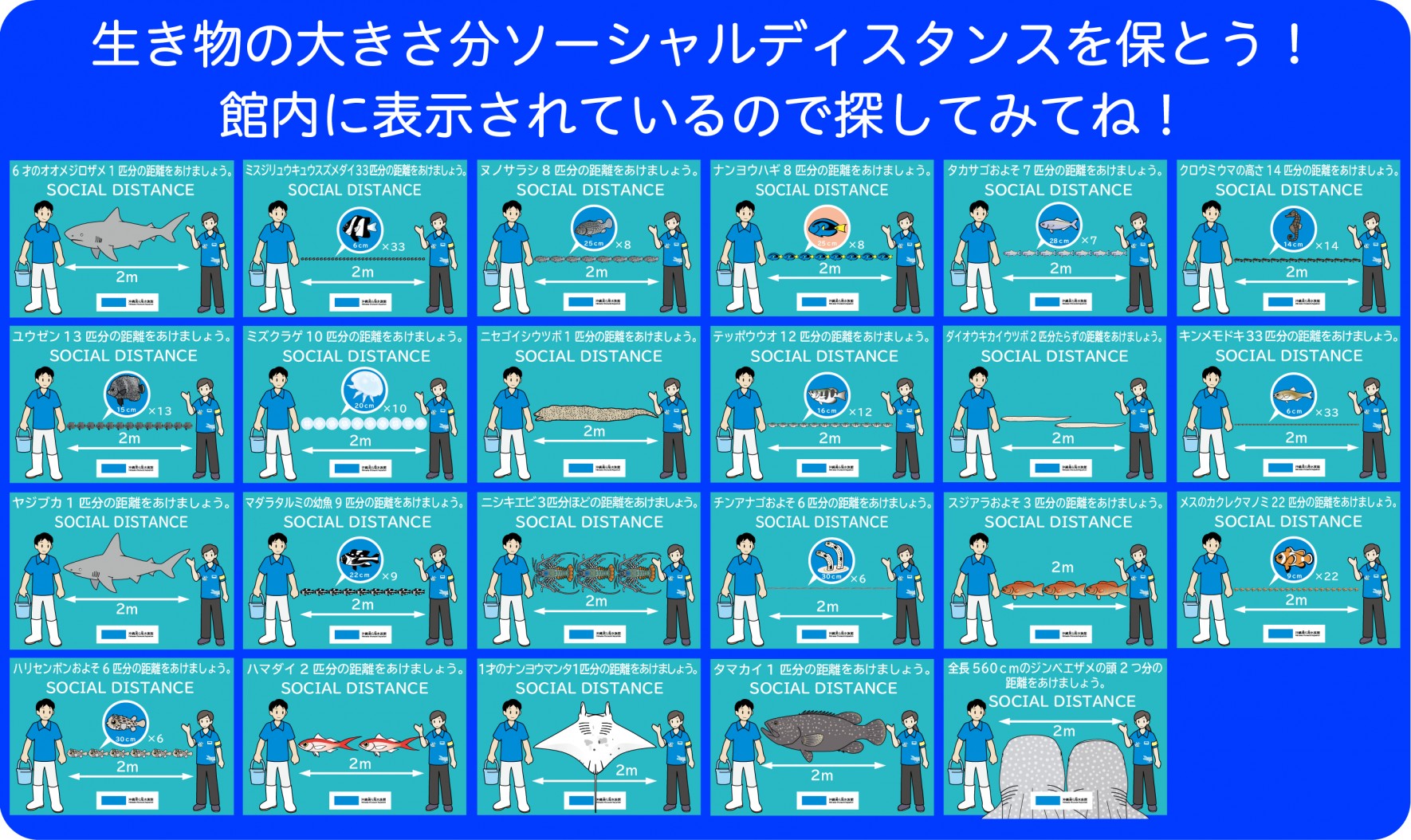 We thank you for your understanding and making your group aware.


Some attractions will remain closed.
※Closure of some programs inside the aquarium and surrounding facilities.
※Displays that involve physical contact (such as the touch pool, displays of shark skin and their jaws.)
※Use of first aid room.
※Audio guide (PDA) rentals at the annual passport counter.
※Using event halls


※Using the rest house




About measures to prevent the spread of infections

The following measures have been implemented to prevent the spread of infections.
・Installation of hand sanitizers
・Installation of disinfectant foot mats at entrances
・Installation of plastic shields at information desks and cash registers.
・Installation of floor markings
・Increased air ventilation within the aquarium building
 The air-conditioning in the aquarium regularly brings in fresh air.
 Furthermore, by opening the emergency doors, the ventilation is increased replacing the air in 2.5 to 5 minutes. When it is windless outdoors, fans will be used to bring in fresh air.
※Ventilation conditions will be measured with a portable anemometer.
・Increased disinfectant cleaning using alcohol
・Increase of social distancing signs to ensure the safety of visitors.
・Regularly monitoring the state of congestion in the buildings with office surveillance cameras.


Request for cooperation in reducing congestion

We request that visitors try to time their visits to when it is less crowded.

・The aquarium is congested during 10:00 to 17:00, please try to visit the aquarium when it is less busy.
・To avoid overcrowding we may restrict the numbers of visitors. We ask for visitors to proceed slowly without stopping when we are limiting the numbers of visitors.
・Please practice social distancing by keeping a gap of 2 meters between visitors. We thank you for your understanding and making your group aware.



Thank you for your understanding and cooperation.

Aquarium programs

Program name
Status
Life in the Inoh (touch pool)
Cancelled
The Coral Sea talk
Cancelled
The Sea of Tropical Fish (Explanation)
Cancelled
The Kuroshio Sea Talk
Cancelled
Exploring the Kuroshio Sea
(observation course above the water)
※Talk is cancelled.
8:30~11:00 (Last admission 10:45)
17:30~Aquarium closes (Last admission is until 15min before the aquarium closes)   
Aqua Lab
Cancelled
(including 16:00 craft workshop)
Churaumi Theater Movies
Cancelled

Programs of nearby facilities of the aquarium (dolphin, sea turtle, manatee)

Shops・Restaurant・Cafe

※To avoid "Confined spaces, Crowded places, Close contact", if these facilities are becoming crowded, we will limit the number of people who can enter.

Name
Status
Souviner shops
Shop "Blue Manta" Open
●1.June.2022~ 8:30~18:30 

Okichan Shop    Open 9:30~17:30
Cafe "Ocean Blue"
Open 8:30~18:00 (LO 17:00)
Restaurant "Inoh"

●

1.June.2022~ 11:00~17:00
・LUNCH BUFFET 11:00~15:00(L.O. 14:30)
・A la carte 15:30~17:00(L.O. 16:30)

Okichan Parlor
Open 10:00~17:30 (LO 16:30)
More Mare
●6.Apr.2022~
・Weekday 10:00~16:00 
・Sat.Sun.Japanese National holiday 10:00~17:00

※Ocean Expo Park will open as usual.However, each facility will have restrictions.For more details, please click here.

Strengthen measures to prevent the spread of infections