Let's make a twirling aquarium mobile so you can watch ocean creatures swim in your home!
This project is available for a limited time during the temporary closure of the aquarium, the twirling aquarium mobile includes creatures that live in Okinawa Churaumi Aquarium.
The four different stages (current plan) will be uploaded when ready.
The creatures on each activity sheet will only be revealed when it is uploaded, so you have to wait to see which creatures will appear!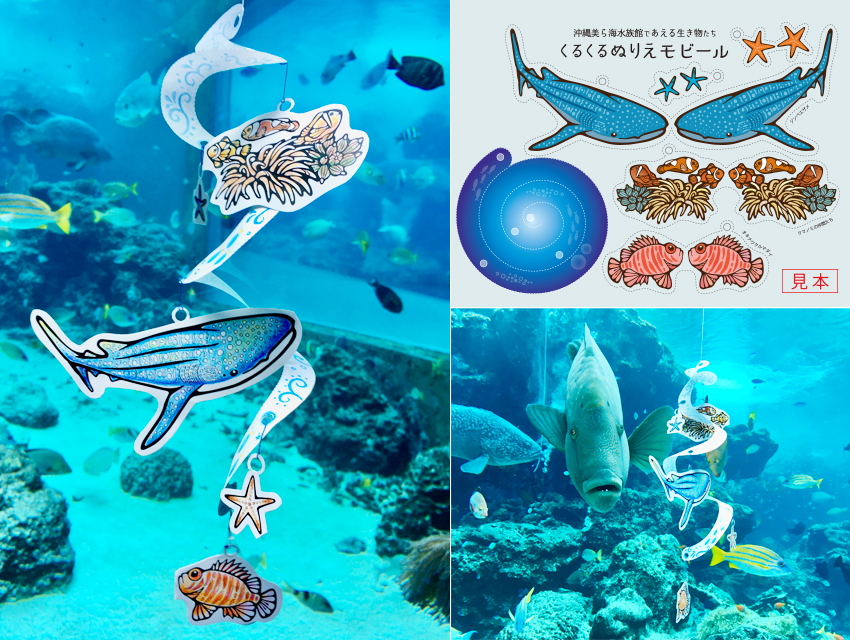 The illustrations were created by "pokke104"an Okinawan illustrator. The same artist designed the limited-edition versions of the annual passport.
First stage download(PDF 900KB)
Second stage download(PDF 445KB)
Third stage download(PDF 520KB)
Fourth stage download(PDF 720KB)
How to make the mobile
① Download and print out the twirling aquarium mobile sheet.
② Color in the illustrations with your favorite colors and cut along the dotted lines.
③ Fold the creatures in half and then glue together.
④ Thread a piece of string through the holes of the twirling spiral.
⑤ Now the creatures look like they are swimming and twirling.
(Caution)
When small children are using scissors, please monitor them for their safety.