2023年
Okinawa Churaumi Aquarium's sea turtle research received a Koga Award, Japan's highest award for rare species breeding.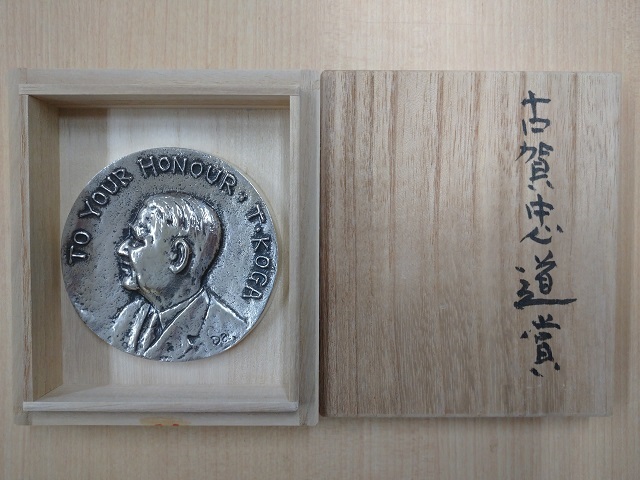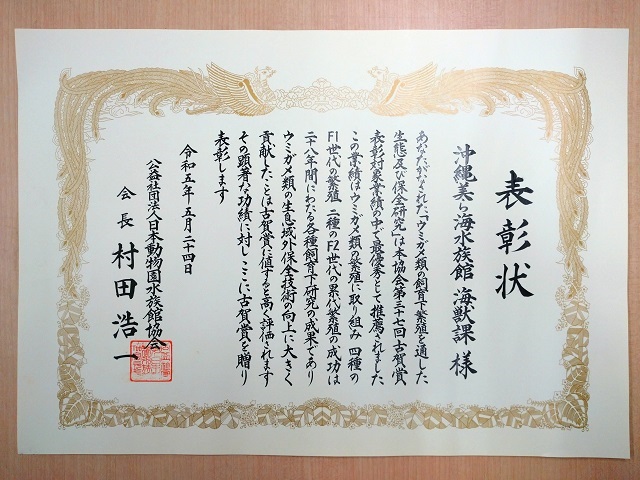 The Japanese Association of Zoos and Aquariums gave the 2023 Koga Award to Okinawa Churaumi Aquarium for its efforts breeding sea turtles. Our foundation previously received this award in 1987, 36 years ago.
【Award title】
Ecological and conservation research conducted through captive breeding in sea turtles.

【What is the Koga Award】
The Koga Award is given to aquariums and zoos for exceptional achievements in the breeding of rare animals. It is the most prestigious award in Japan, and is presented only after successful breeding of a rare species with global significance. Its name commemorates Dr. Tadamichi Koga, former director of the Ueno Zoological Gardens, who made a great contribution to the establishment of JAZA in 1986.

【Information on the award】
Okinawa Churaumi Aquarium has successfully bred sea turtles listed on the IUCN Red List and Appendix I of CITES, including a first generation of loggerhead turtles, green turtles, hawksbill turtles, and black turtles, and a second generation of loggerhead turtles and hawksbill turtles. This achievement is the result of 28 years of captive research with publications in 16 scientific journals (13 English, and 3 Japanese). The research was judged as worthy of the Koga Award for its significant contribution to the improvement of ex situ conservation techniques for sea turtles. On May 24, 2023, the Koga Award ceremony and lecture was made at the JAZA general meeting.
2021年
Publication of scientific paper on the gestation and birth of a captive pantropical Spotted dolphin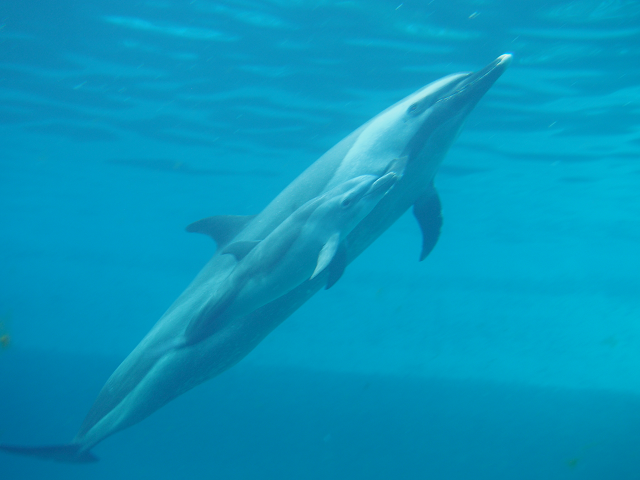 Pantropical spotted dolphins inhabit tropical and subtropical waters around the world. There are very few cases of this species being successfully bred in captivity. On March 31st, 2017, the world's first successful captive birth of a pantropical spotted dolphin took place at the Okinawa Churaumi Aquarium. The successful reproduction revealed that gestation took 352 days, and that levels of the female hormone progesterone changed during pregnancy. The captive birth revealed that labor took nine and a half hours, and it took four hours for the newborn to take its first suckle of milk. The results from this research will hopefully contribute to future breeding programs of pantropical spotted dolphins.
【Authors】Shunya Ikeshima, Suguru Higa, Yuuta Mitani, Mariko Omata, Nozomi Kobayashi, Keiichi Ueda, Isao Kawazu
【Title】First Observation of Pregnancy and Parturition in a Captive Pantropical Spotted Dolphin (Stenella attenuata)
【Journal】Mammal Study
Controlling the time of coral spawning! Adjusting the release of coral gametes!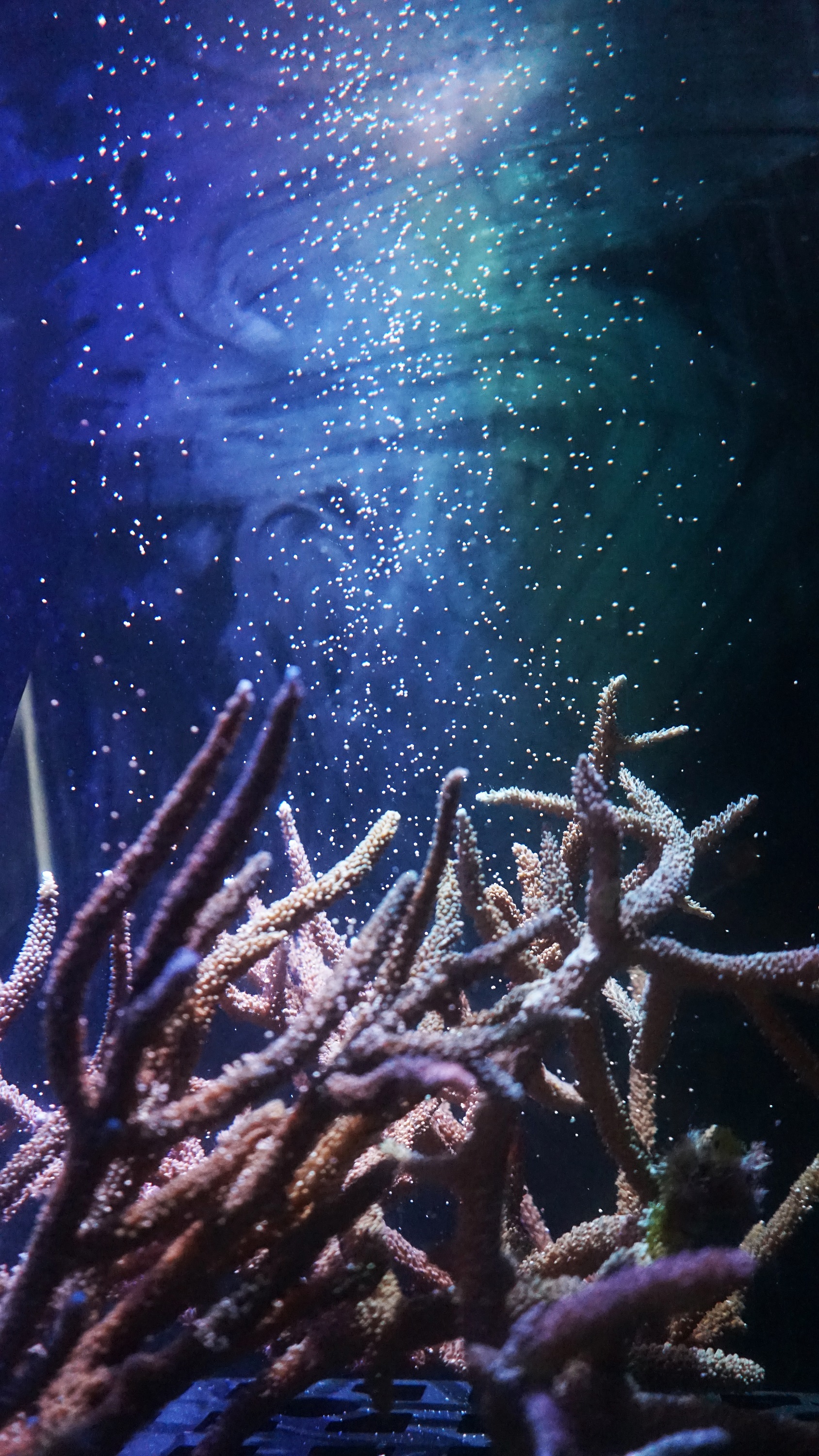 Coral spawning is the release of coral eggs and sperm.
At Okinawa Churaumi Aquarium the coral species Acropora microphthalma spawned from 13:55 to 14:25 on the 23rd and 24th of May, 2021. Acropora microphthalma is a species of staghorn coral, staghorn corals are commonly seen in the waters around Okinawa.
During spawning the coral releases pinkish capsules called "bundles" that are 1mm in diameter and contain the eggs and sperm.
These capsules burst on the surface of the ocean, and the eggs are fertilized.
Spawning in Okinawa occurs between May and June on a night around the spring tide.
The exact time of spawning will vary depending on the species.
Most staghorn corals spawn a few hours after sunset.
By gradually adjusting the lighting in the tanks, we were able to artificially create nighttime earlier and earlier.
This led to a successful "nighttime" spawning that was actually during the day.
By utilizing this technique at our facility, we are able to better understand the ecology of coral spawning.
We also hope visitors enjoy this opportunity to view coral spawning during the day!
Striving for captive breeding of whale sharks
Whale sharks are the world's largest fish, however there is limited information about whale shark ecology, and this is especially true concerning their reproduction.
In an attempt to clarify the reproductive ecology of whale sharks, Okinawa Churaumi Aquarium and Churashima Research Center have decided to work towards the world's first ever captive breeding of whale sharks. This will be done by conducting various surveys and research while collaborating with external agencies.
Sexual maturity of the male whale shark "Jinta"
Generally, male sharks (like rays) have two claspers that grow during maturation and have a reproductive function. This transformation has already occurred to Jinta.
Jinta's claspers grew rapidly between August 2011 and July 2012.
From April 2012, he has begun to move the claspers and researchers have confirmed the presence of sperm cells.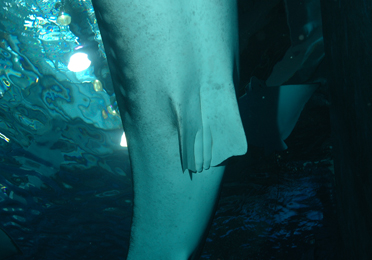 October 2005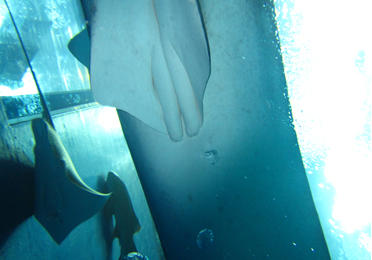 August 2011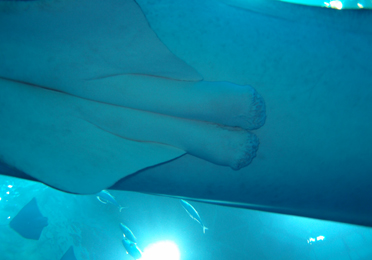 July 2012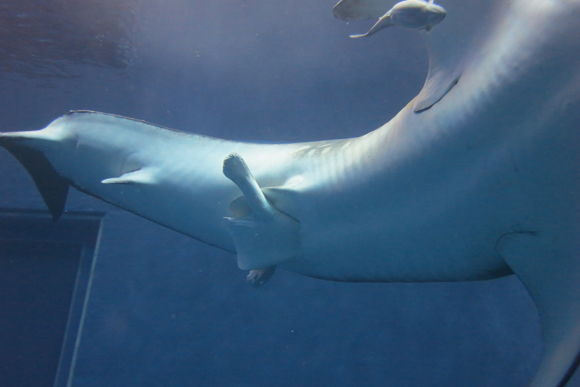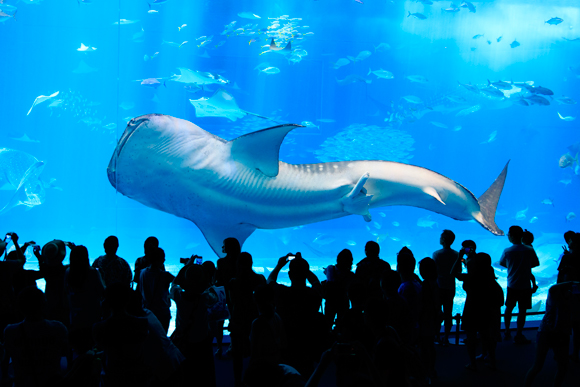 Surveys of sexual maturity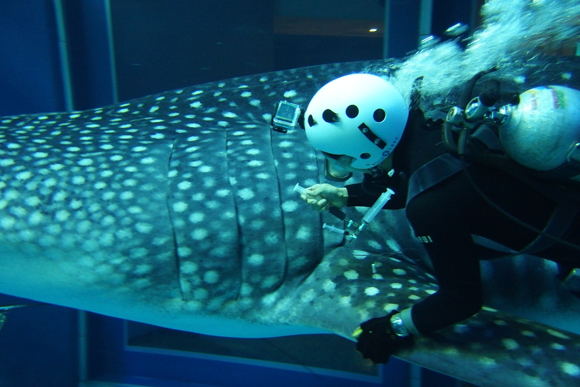 Okinawa Churaumi Aquarium conducts health checks every month, taking blood samples from the whale sharks. The concentration of hormones within the blood is very important as it allow researchers to know the maturity level of the whale sharks. Jinta's hormone concentrations changed with maturity, and also change depending on the season.
We have also conducted the same surveys every month with the female whale sharks and are verifying the level of maturity along with seasonal changes.
Monitoring their behavior
From 2014, Jinta started to chase the females and began to cross his claspers frequently.
In order to know the frequency of this behavior, we increased observation by staff and installed a 24-hour monitoring device.
The growth of the whale sharks
It is essential to be aware of conditions in the aquarium in order to understand the pace of growth of the whale sharks. We consistently measure their total length as well as their girth monthly at our aquarium. We obtain important information through stable husbandry to answer questions such as "Are they steadily growing?", "In which season do they grow fastest?" and "Are they consuming the right amount of food?"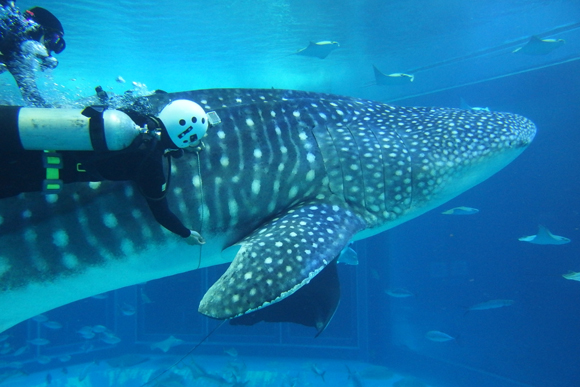 Surveys of whale sharks in the wild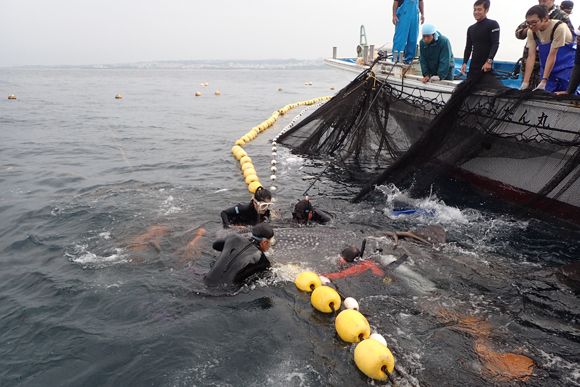 In Okinawa there are times when a whale shark is caught in a fixed shore net and with the cooperation of fisherman they are released back into the ocean. When this event occurs we collect blood samples and measure their total length and their girth, collecting samples of tissues and DNA for chemical analysis. We also use an electronic marker to monitor their behavior in their natural habitat. With this research, we can gain valuable information into whale shark reproduction and ecology.
Two whale sharks on display
It is believed that a female whale shark will be sexually mature when her total length exceeds 9m. We now display two whale sharks at the aquarium, Jinta and our largest female (total length 8m) in the main tank. Jinta has already increased the number of approaches towards the female (chasing behavior) and we presume that reproduction is close.
As this female grows she is expected to become Jinta's bride.
From November 2016, the main tank has housed two rather than three whale sharks.
The extra space will hopefully encourage reproduction.
Breeding Program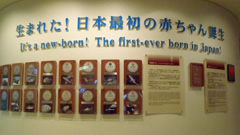 At Okinawa Churaumi Aquarium we don't just raise animals for exhibition – we also carry out investigative research.
A large part of our research is animal breeding. By demonstrating the results of healthy captivity, and providing biological data for the animals concerned, breeding animals in captivity generates valuable data for the preservation of wild specimens. The Japanese Association of Zoos and Aquariums is an organization that supports the activities of zoos and aquariums in Japan.

The Breeding Award was set up in 1957 and is awarded to "the successful breeding of animals in captivity where the offspring survive for more than 6 months, and which has not been accomplished before in Japan."

Okinawa Churaumi Aquarium has received the Breeding Award for 26 different species including manta rays and Indo-Pacific bottlenose dolphins. The high success rate for breeding large sharks and rays, something rarely seen at other facilities, is of particular note.

We will continue our research into breeding and rearing techniques, aiming for successful breeding and long-term captivity of a greater variety of animals, and promoting the preservation and flourishing of marine life.
The Koga Award
The Koga Award was first established in 1986 and is named in memory of Dr. Tadamichi Koga, former director of the Japanese Association of Zoos and Aquariums, who contributed greatly to the protection and propagation of rare animals and whose generous donation formed the basis of the award fund.
The award is given to those who have notably contributed to the improvemment of breeding know-how in zoos and aquariums by demonstrating excellence in any of the following areas.
Breeding of a globally rare species and one that is difficult to breed in captivity
Successful breeding over multiple generations
Breeding achieved as a result of creative, unique and groundbreaking efforts
In the very first award ceremony (1987), Okinawa Churaumi Aquarium received an award for successfully breeding two generations of whitetip reef shark in captivity.