Some programs of inside the aquarium and surrounding facilities will remain closed.
For more details, please click here.
Programs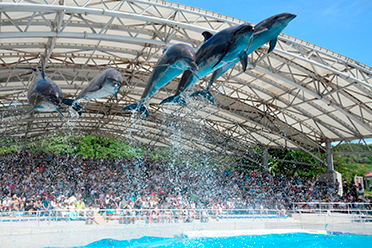 Watch the darling of Ocean Expo Park, Okichan the dolphin, and her friends put on a thrilling show against the backdrop of the blue sea!
Enjoy the dolphins' natural athletic ability in this performance by Indo-Pacific bottlenose dolphins and false killer whales. An explanation of dolphin biology and dolphin abilities will be provided.
Dolphin Show (Approx. 10 minutes)
Start Times 10:30 / 11:30 / 13:00 / 15:00 / 17:00 /
Access

5 minutes' walk from the Okinawa Churaumi Aquarium exit.
Get off at "3. Okichan Theater" if using the Trolley (tour car).
<We request your cooperation to prevent the spread of COVID-19>
Please bring your own mask.(You may not enter if you are not wearing a mask)




※Infants and toddlers do not have to wear a mask.

Visitor seating is limited. (488 seats) Standing in the area is not allowed.
Please refrain from visiting the aquarium if you have a cold (coughing, sneezing, sore throat) or if you have health concerns.
Please use the disinfectant spay to disinfect your hands.
Please maintain your distance from other customers when sitting.
Thank you for your understanding and cooperation.